September 17, 1971
- The White Sox defeat the California Angels 9 - 4 at Comiskey Park. An unusual event marks this game.
All nine players in the White Sox lineup that night get one RBI, including pitcher Bart Johnson,
who starts, gives up eight hits and strikes out twelve in going the distance.
September 17, 1983
- Before a packed house at Comiskey Park,
Harold Baines
hits a sacrifice fly driving in
Julio Cruz
with the run that wins the American League West title for the Sox as they edge Seattle 4 - 3. The Sox go to the playoffs for the first time in 24 years, draw a then record season attendance of over two million fans and have the best record in baseball at 99-63. They win the division by a then record 20 games over second place Kansas City. (Many members of the 1983 team including
Scott Fletcher, Ron Kittle
and
Jerry Koosman
talk about that night and that season with White Sox Interactive in their interviews.)
September 17, 1984
-
Harold Baines
becomes the only player in franchise history to have more then one game with three home runs. Baines had his first three homer game in July 1982. On this day at Minnesota, he'd club three more in the 7 - 3 win. He'd drive in four RBI's.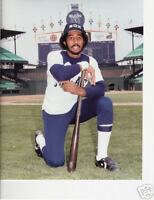 Lip