I like this post. I forced my wife to go to Mark Buehrle's last start in 2011... Man, it was a rainy, cold, and kind of miserable day (I ended up in the doghouse for that one). So I will probably have to make one last trip to the Cell this year to hopefully catch one more game from Paulie.
What a ride it has been.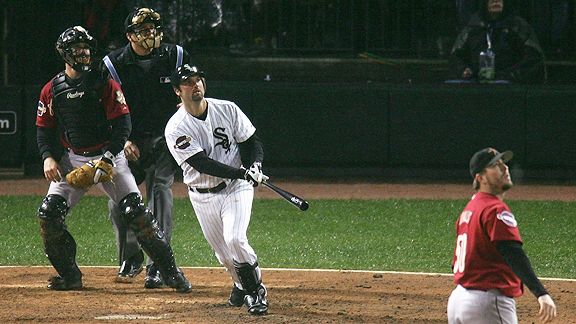 Konerko was never my
favorite
player on the team, but he does hold a special place in my fandom. I didn't really become a Sox fan until around 1992/1993; I watched games on TV and **** but obviously didn't process or absorb too much of it before then. So guys like Big Frank and Robin and Black Jack were already up and established players. I didn't get to experience their whole career arc, from budding stars in the minors, to rookie seasons, and so on and so forth. I kind of cheated and came in the middle.
So anyways, the guys that became the core of those late 90s, early 2000's teams like Ray Durham, Magglio Ordonez, Carlos Lee, and Konerko were the first players who really baptized me into being a baseball fan. I remember reading about Maggs' batting titles in Charlotte. I remember Carlos Lee before he was
El Caballo
. And I remember when Konerko was acquired for Mike Cameron. So it's odd that he's down to maybe a dozen or so games left in a Sox uniform. Oh, and I just turned 30 earlier this month, so I feel like there is probably some existential, "coming-to-terms-with-your-own-frail-existence-and-mortality" undercurrent here, but I'll leave that for the shrinks.
Good times, though. Good times.